Mar a bhíonn i gcónaí, is é seo an tréimhse is gnóthaí dúinn i gairdín na scoile, agus meitheal de pháistí ag saothrú go dian faoin ngrian! Is breá le fiailí an ghrian chomh maith, rud a chinntíonn go bhfuil go leor le déanamh! 'Sé an Múinteoir Brían atá ag eagrú na hoibre seo, le tacaíocht ó bhaill foirne éagsúla, ár gcoiméadaí Tony ina measc. Míle buíochas le Declan Webb, athair Jonah agus Ethan, as a chuid cabhrach chun toir agus crainn ag cúl na scoile a ghearradh siar dúinn.

Táimid ag obair linn i dtreo bhainistiú orgánach agus méadú sa bhithéagsúlacht. Tá cúinne amháin den ghairdín fágtha mar "ghairdín fiáin". Tá breis bóin Dé curtha isteach againn chomh maith le breis "bug motels" agus néimeatóid in úsáid againn chun smacht a choiméad ar dhrúichtíní agus smacht nádúrtha ar lothnaid a chur chun cinn.Tá an-chuid daltaí ina saineolaithe anois ar idirdhealú a dhéanamh ar na lothnaid plandaí, seachas na lothnaid a bhfuilimid ag iarraidh a mhealladh, agus táimid ag súil go mbeimid in ann toradh an ghairdín a ithe sula sroicheann na héanlaithe é!

Tá cuma álainn anois ar ár seomra ranga seachtarach ina bhfuil bord agus binsí athchúrsáilte. Chuir páistí Rang 5 péint úr ar an troscán seo agus is breá le gach rang tréimhse a chaitheamh ann faoin ngrian! Cabhraíonn na butaí uisce linn uisce a shábháil agus dá réir, laghdú ar an méid uisce a úsáidtear ó na sconnaí. Luíonn sé isteach do deas lenár bpolasaí ar chaomhnú uisce, atá mar chuid den chéad fheachtas eile don Bhrat Glas.

Cuirfidh baill an Choiste Ghlais na an Chlub Garradóireachta fáílte is fiche roimh chuairteoiri go mbeadh suim acu turas a dhéanamh timpeall an ghairdín!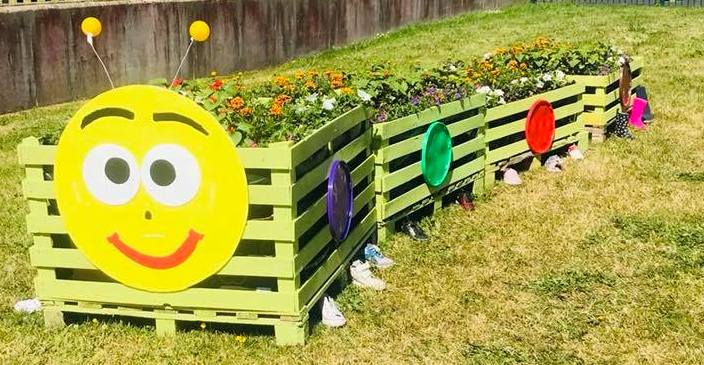 As ever, the summer term is the busiest in our school garden and the children have been enjoying flexing their green fingers in the sunshine. Weeds have also been enjoying the sunshine, so there's always plenty to be done!

An M. Brian has been co-coordinating the work, with the cooperation of other staff members and with help from Tony, our caretaker.Thanks to Declan Webb, father of Ethan and Jonah, for his help in taming the very overgrown hedges and pruning the trees to the back of the school.

We are continuing our move towards total organic management and increasing biodiversity. One corner of the yard has been designated as a "wild corner". We have introduced extra ladybirds, more "bug motels" and also the use of nematodes to help control the slug population to boost natural pest control. Many pupils are also rapidly becoming expert in distinguishing plant pests from those we want to encourage and we are hoping that we can harvest the garden produce before the birds beat it us to it!
Our outdoor classroom area has been revamped with the recycled benches and table and all of the children have enjoyed being outdoors in the recent fine weather. The water butts for harvesting rainwater have been great to minimize the use of tap water, which fits in well with our water conservation policy, as part of our next green flag campaign.
Feel free to drop in for a visit, members of the Green School Committee or Gardening Club would love to show you around!