Bhí an céilí mór ar siúl againn i gclós na scoile agus chuireamar fáilte speisialta roimh chuairteoirí ó Mheiriceá a tháinig chugainn don ócáid. Mhúin An M. Mairéad an Rince Scuaibe do an-chuid ranganna agus chuir siad taispeántas breá ar siúl dúinn mar chuid den chéilí. D'fhoghlaim gach páiste sa scoil rincí ar nós Ionsaí na hÍnse agus Ballaí Luimní. Bhí gach duine gléasta i ndathanna na hÉireann agus bhí páístí sinsireacha na scoile ag tabhairt cabhrach do na ranganna níos óige. D'fhreastail páistí Rang 6 ar chéilí a bhí eagraithe ag an nGaelcholáiste chomh maith.
We had our Céilí Mór in the yard, and were delighted to welcome some American visitors to join in the craic! An M. Mairéad taught the traditional "Rince na Scuaibe" or "Brush Dance" to a number of our pupils and they gave us an exhibition as part of the céilí . Every child in the school learned some of the other dances such as "Ionsaí na hÍnse" and "Balla Luimní." The younger classes partnered with our senior pupils and everyone was be wearing the Irish colours, Our sixth class also attended an indoor céilí organised by the Gaelcholáiste.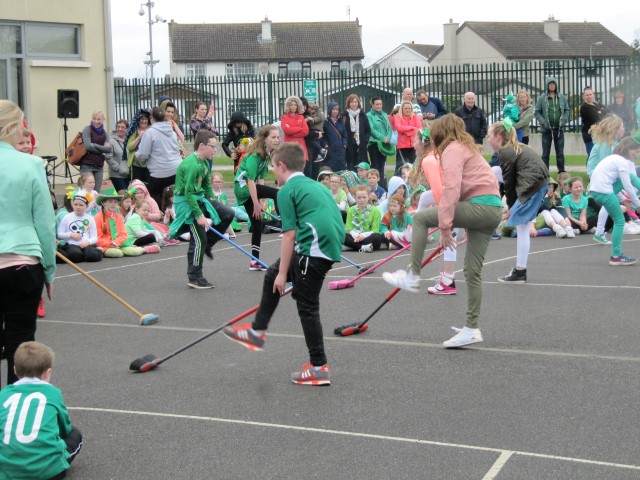 Mar chuid d'imeachtaí Sheachtain na Gaeilge, tugadh cuireadh do ghrúpa ceoltóirí agus rinceoirí na Gaelscoile dul go Scoil Lasaríon Naofa anseo i mbaile Cheatharlach, chun seisiún traidisiúnta a chaitheamh leis na páistí ansin. Mar a tharlaíonn i gcónaí, bhí ár ndaltaí thar a bheith sásta a gcuid talainne a roinnt ar dhaoine eile agus cultúr na hÉireann a chur chun cinn !
Comhghairdeas leis na páistí a ghnóthaigh duaiseanna i gcomórtas ealaíne Sheachtain na Gaeilge. Tá siad le feiceáil thíos lena saothar ealaíne.
As part of the week's festivities, a number of traditional musicians and dancers from the Gaelscoil were invited to perform at St. Lazerian's school here in Carlow town. Our pupils, as always, were delighted to share their talents and do their part to promote the Irish culture.
Congratulations to the children who were prize winners in the annual Seachtain na Gaeilge art competition
They are pictured below with their winning work.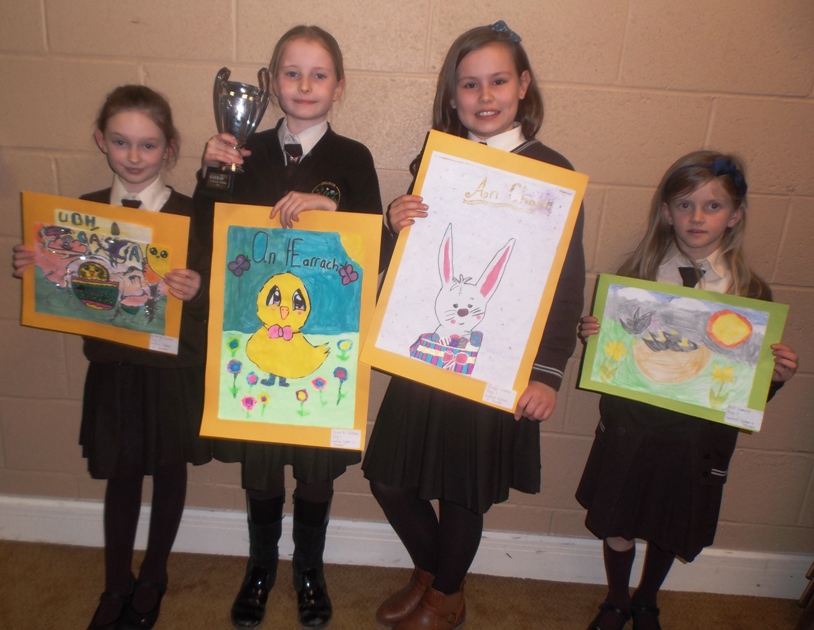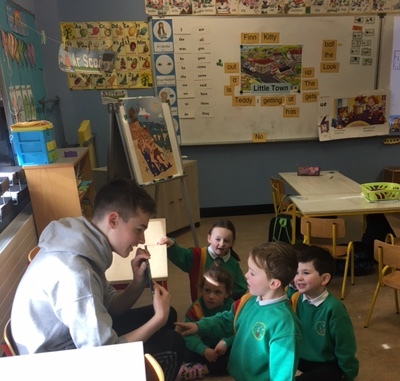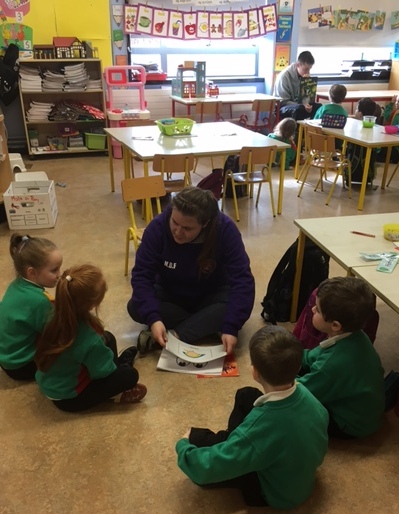 Bhain na ranganna naíonán an-taitneamh go deo as na seisiúin scéalaíochta as Gaeilge a d'eagraigh lucht idirbhliana an Ghaelcholáiste dóibh. Ghlac na páistí seo páirt chomh maith i dTráth na geist speisialta, eagraithe ag a múinteoirí. Bamhór an iomaíocht a bhain le Tráth na gCeist i measc na ranganna eile freisin! Déan do chuid eolais a thástáil tré bhrú ar an nasc seo.
Ghlacamar páirt i Mórshiúl Lá le Padraig i mbaile Cheatharlach le "Gráigh Ceatharlach mar théama i mbliana. In aineoinn na drochaimsire, shiúil slua mór ón nGaelscoil taobh thiar de dhragún na scoile agus bandaí cinn speisialta á gcaitheamh ag gach duine acu, ag léiriú dathanna an chontae.
The infant classes were treated to an Irish story telling session with pupils from the Gaelcholáiste. All of the infant classes took part in a special table quiz too, organised by their teachers. Older classes also had table quizzes and the competition was very keen! You can test your knowledge by clicking on this link.
The Gaelscoil also participated in the Carlow parade which had the theme "Love Carlow " this year. Our school dragon led the participants, who wore specially made headbands in the Carlow colours.