Bhí an scoil maisithe go hálainn le healaín is ceardaíocht a léirigh dathanna agus traidisiúin na hÉireann. Ar an Aoine, ghlac breis is 500, idir pháistí, mhúinteoirí agus thuismitheoirí, páirt sa chéilí mór faoin aer agus ba mhór an spórt a bhí againn go léir. Chun tacaíocht a léiriú do Raonaithe Stua Laighean a bhí ag imirt i gCraobh Club na hÉireann san iománaíocht ag an deireadh seachtaine, ghléas roinnt mhaith páistí i ndubh agus dearg agus seoladh grianghraf de seo (féach thíos) go dtí an club . R.S.L. ABÚ!
Léirigh páistí ó Sheomra 3 (An M. Treasa) dráma álainn dar teideal "An Cochaillín Dearg" agus bhí lucht féachana mór i láthair- tuismitheoirí, comhdhaltaí agus lucht na chéad bhliana ón nGaelcholáiste lena múinteoirí – chun tacaíocht a thabhairt dóibh. Bhí an dráma mar chuid de Fhéile na Scoil Drámaíochta agus bhronn Glór Cheatharlach bonn ar gach aisteoir.
Ghlac roinnt ranganna páirt i dTráth na gCeist as Gaeilge i rith na seachtaine freisin.
Bhí slua mór ón nGaelscoil páirteach i Mórshiúl Lá le Pádraig. Bhí Jill Ní Dhrisceoill (Rang 4) ag beannú na sluaite agus í gléasta mar Naomh Pádraig(ín!)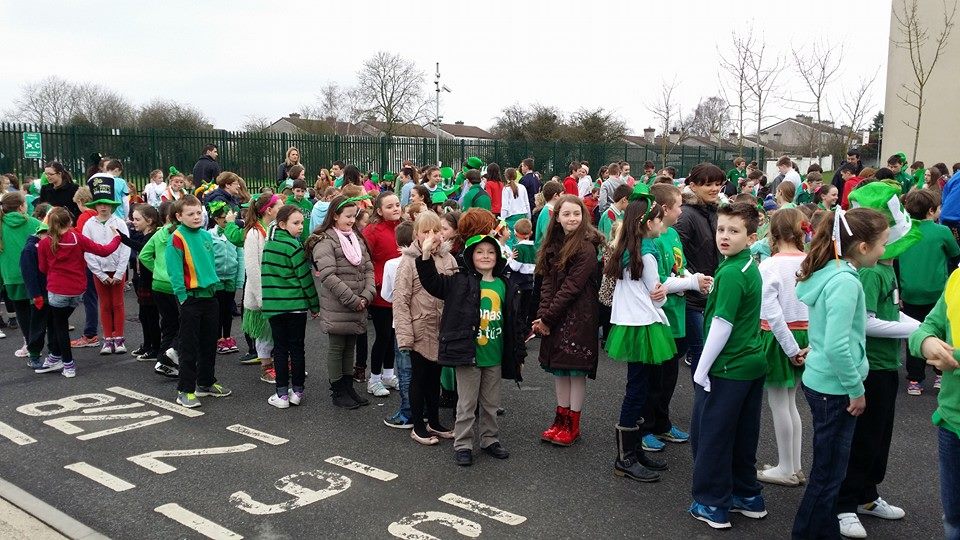 The Gaelscoil was beautifully decorated to express the colours and traditions of Ireland for Seachtain na Gaeilge . On Friday, over 500 people, pupils,teachers and parents had great fun taking part in the open air céilí. To show support for Mount Leinster Rangers ,who were playing in the All Ireland Club Hurling Finals at the weekend, many children chose to wear the black and red colours of the club. A picture of these supporters above) was forwarded to the club before the big day. M.L.R. ABÚ!
Seomra 3 , An M. Treasa, performed their production of "Little Red Riding Hood" to a wide audience including their delighted families, their schoolmates and a group of First Year students and their teachers from the Gaelcholáiste. This play was part of the Schools' Drama Festival and each child was presented with a medal by Glór Cheatharlach to mark their participation.
A number of classes took part in a table quiz 'as Gaeilge' as part of the week's activities also.
The St. Patrick's Day parade drew a large participation of Gaelscoil pupils and parents with Jill Ní Dhrisceoill (Rang 4) as Naomh Pádraig(ín!) blessing the crowds!