Fáilte ar ais go téarma nua. Tá súil agam go raibh Nollaig álainn agus sos maith ag gach duine.
D'éirigh go hiontach leis an díolachán ar na haprúin scoile. Is féidir cinn a cheannach go fóill tré oifig na scoile. Buíochas mór le gach duine a chabhraigh iad a chur le chéile agus iad a dhíol.
Welcome back to the new term. I hope everyone had a lovely Christmas and a good break.The sale of our school aprons was wonderful. Some are still available to buy through the school office.
Tá cúntas Twitter ag an scoil anois. @cgscoil
The school is now on Twitter. @cgscoil
Bhí Mion-Aonach na Nollag ar fheabhas. Bhain na daltaí go léir an-taitneamh as an maisiú ar na brioscaí agus na borróga agus bhí an-éileamh ar na ticéid don chrannchur. Bhuaigh Ellie Ní Chonchobhair an Daidí na Nollag ollmhór seacláide agus d'éirigh le Alex de Cuirtéis teilifís a bhuachaint. Ár mbuíochas leis na tuismitheoirí go léir a d'oibrigh go dian chuige seo.
The Mini-Christmas fair was fantastic. The children really enjoyed decorating the biscuits and buns and there was a big demand for the raffle tickets.Ellie Ní Chonchobhair won the huge chocolate Santa and Alex de Cuirtéis was the lucky winner of the television. Thanks to all the parents who worked so hard on all of these things.
Bhí ceoltóirí na scoile, idir pháistí agus mhúinteoirí, gnóthach ag buscáil roimh Nollaig. Chaith siad dhá thráthnóna ag seinm ceoil, ag canadh agus ag bailiú airgid do Chumann Naomh Uinsean de Pól, €550 ina iomlán. Comhghairdeas le gach duine a ghlac páirt.
The school musicians, pupils and teachers alike,were very busy busking before Christmas. They spent two evenings playing music, singing and collecting money for the local St. Vincent de Paul.The total collected was €550, congratulations to everyone who took part.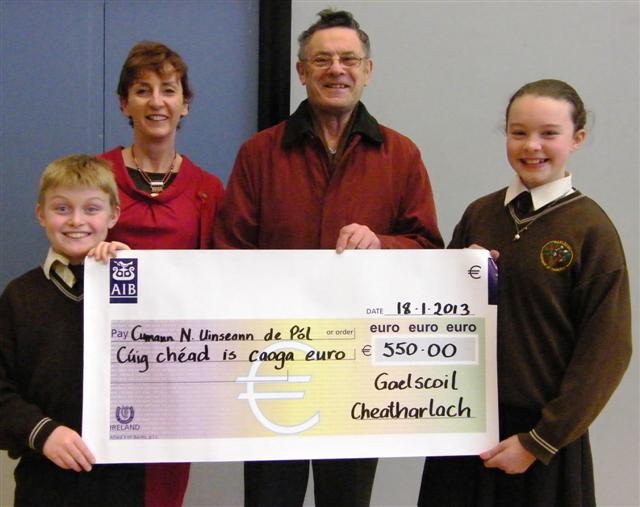 Bhí an Seirbhís Carúl sa séipéal go hálainn agus chuir na páistí ó Naíonáin Bheaga i Seomra 3 dráma gleoite faoi scéal na Nollag i láthair dá dtuismitheoirí.
The carol service in the church was beautiful and the Junior Infants in Seomra 3 performed a lovely Christmas drama for their parents.