Thosaigh An M. Treasa sa Ghaelscoil i1983 agus bhí sí mar chuid lárnach d'fhorbairt na scoile ó shin. Bhí sí ina Leas-Phíomhoide ar feadh na blianta. Faraoir , mar gheall ar shrianta Covid, bhí orainn "slán" a fhagáil léi i slí difriúil.
Bhailigh baill dá clann i Halla de Róíste agus is ansin a labhair baill foirne, Cathaoirleach den Bhord Bainistíochta ,Maria Mhic Dhiarmada, Séiplíneach na  Gaelscoile  An tAthair Conn Ó Maoldhomhnaigh mar gheall ar na blianta a chaith Treasa ag saothrú ar a dícheall ar son na Gaelscoile. I measc dóibh siud a bhí sa Halla, bhí Kate Ní Bhriain Mhic Aodha, a bhí mar dhalta sa chéad rang a mhúin An M.Treasa. Bhí iar-phríomhoidí na scoile, Bríde de Róiste agus Aingeal Uí Dhalaigh ann freisin chun a mbeannachtaí  a fhágáil ag An M. Treasa.
Labhair Príomhoide na Gaelscoile , An M. Ruth faoin slí a chabhraigh An M.Treasa léi dul i dtaithí ar an scoil nua agus an tacaíocht a thug si di ó Mhí Lúnasa ar aghaidh.Chan na páistí amhrán speisialta don Mhúinteoir Treasa freisin agus an scaradh sóisialta  i bhfeidhm i gcónaí. Bhí spéis faoi leith ag an M. Treasa sa drámaiocht agus an Ghaeilge a chur chun cinn. Bhí taifeadadh déanta don ócáid agus teachtaireachtaí ó phobail na scoile agus clann Threasa ann, ceann óna Máthair  san áireamh ,an slí ar fad ó na Gorta Dubha i gCorca Dhuibhne!
Guímid gach rath ar An M.Treasa sa saol nua atá roimpi.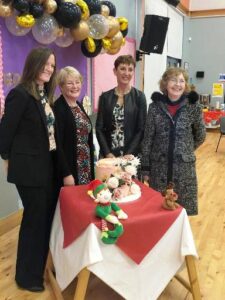 An M. Ruth, Treasa, Aingeal agus Bríde
An M. Treasa began teaching in An Ghaelscoil in 1983 agus played a central role in the development of the school since then. She was also Deputy Principal for many years . Unfortunately due to Covid restrictions, we had to bid her farewell in a different way.
Members of her family gathered in Halla de Róiste to hear staff members, the chairperson of the Board of Management Maria Mhic Dhiarmada and the school chaplain An tAthair Conn Ó Maoldhomhnaigh , speak of the years that Treasa worked to the best of her ability on behalf of the school. One of  those in the Halla was Kate Ní Bhriain Mhic Aodha, a pupil in the first class that An M. Treasa taught. Former principals of the school Bríde de Róiste and Aingeal Uí Dhálaigh were also present to present their good wishes to Treasa. An M. Ruth spoke of how an M. Treasa helped her to settle into her new role in  An Ghaelscoil and of the support given to her by Treasa since August. The children sang a special song for with social distancing maintained.  An M. Treasa had a particular interest in drama and the promotion of the Irish language. A recording had been prepared for the occasion, with messages from the school community, Treasa's family , including one all the way from An M. Treasa's mother in the West Kerry Gaeltacht.
We wish every success to An M. Treasa as she enters the next phase of her life.