The children of Naíonáin Bheaga were enlisted to help find this mischievous elf by Garda Conor Egan today. Dazzler had been spotted in their classrooms and even in the office so Garda Egan arrived, with the blue lights of the Garda car flashing, early this morning.  He explained to the children that the last reported sighting of Dazzler was in the very same car park that morning, but that it would appear that the elf fled towards Éire Óg and possible towards Fairgreen.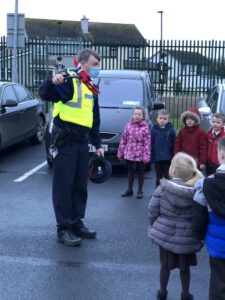 On his radio to the station, Garda Conor spoke to a colleague about the possibility of needing the Garda helicopter and canine unit.  He brought the Garda Station Elf, who gave messages "as Gaeilge" to the children. They were reminded about the need to maintain good handwashing and cough hygiene. The Naíonáin Bheaga were also encouraged to continue to keep an eye out in the hunt for #FindDazzler #AimsighDazzler.
Thug an Garda Conor Egan cuairt ar an nGaelscoil inniu agus cabhair á lorg aige ar na Naíonáin Bheaga chun teacht ar an rógaire lucharacháin seo. Is cosúil go bhfacathas é i seomraí ranga na naíonán, agus fiú san oifig, agus mar thoradh air sin, tháinig an Garda Egan gan mhoill go luath ar maidin agus soilse gorma an chairr ar lasadh aige. Mhínigh sé do na páistí gurbh é an radharc deireanach ar Dazzler ná sa charrchlós céanna ina raibh siad bailithe ach bhí an chosúlacht ar an scéal go raibh an rógaire imithe ar cosa in airde i dtreo Éire Óg agus ionad siopadóireachta Fairgreen b'fhéidir.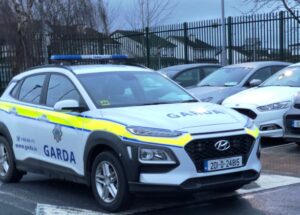 Ag labhairt dó ar an raidio chuig an stáisiún, dúirt an Garda Egan lena chomhghleacaí go raibh seans go mbeadh gá fios a chur ar Phreabaire Spéire na nGardaí nó Aonad Madraí na nGardaí fiú. Bhí lucharachán Stáisiún na nGardaí in éineacht leis agus thug sé teachtaireacht speisialta as Gaeilge do na páistí. Chuir sé i gcuimhne dóibh leanúint ar aghaidh le níochán na lámh agus le casachtach go sábháilte. Ina theannta sin, d'iarr sé ar na páistí a bheith ag faire amach do Dazzler sa tóraíocht #Find Dazzler #Aimsigh Dazzler.