Tá páístí Rang 2 ag foghlaim faoi ghráinneoga le déanaí. Is mór an t-áthas a bhí orthu nuair a tháinig gráinneog ar cuairt chucu  ar scoil, a bhuíochas sin le Davy's Pets. Ní bhíonn gráinneoga sásta má bhíonn sé ró-gheal nó ró- ghlórach agus rinne na páistí deimhin de go raibh cúinne ciúin aici agus go raibh siad féin go deas ciúin nuair a bhí an créatúr ar cuairt leo.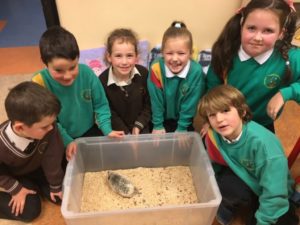 Mar eolas: Ní ceadaítear gráinneoga fiáine a choiméad mar pheataí gan cheadúnas speisialta. Ba Ghráinneog Bheag Aifriceach í an cuairteoir.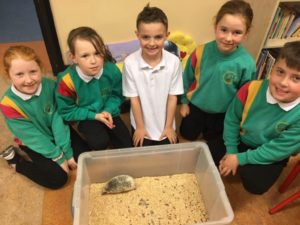 The children of Rang 2 have been learning all about hedgehogs recently. Imagine their surprise when a hedgehog came to visit them in school, thanks to Davy's Pets. Hedgehogs don't like too much light or noise, so the children made sure she had a dark corner in the box and were especially quiet while the little creature was visiting.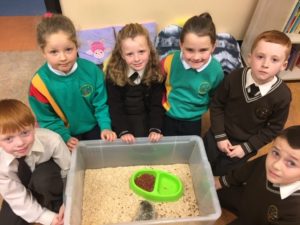 *Note Wild hedgehogs cannot be kept as pets without special licence. The visitor was an African Pygmy Hedgehog,which can be kept as a pet.